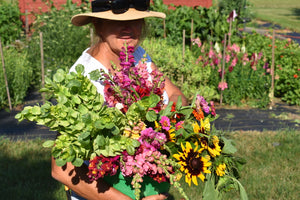 A Fresh Floral Finish

Directly from our gardens to your table, enjoy curated bouquets of flowers, stems, foliage, herbs, vines, buds, and berries. Our flowers are sustainably grown without pesticides or herbicides, paying close attention to what we put into our soil. When you purchase seasonal blooms from Circus Seed Flowers, you are nurturing the health of our local soils and pollinators.
Brighten your table, your next meal, or your favorite cocktail with our fresh flowers.
Discover more